Christian Family Entertainment
"It was indeed a privilege to work with 'The Juggler With The Yellow Shoes' at our annual Children's Christmas Party. The children obviously responded with much laughter and delight to your amazing feats and listened carefully as you shared your story of salvation through words and music."
Captains Pat and Jim Irvine, Salvation Army, Chicago, IL
Dan Kirk is available for all your church functions:
Upward Award Events
VBS
AWANA
Youth Events
Christian Music Festivals
Sunday School Kickoff/Finale
Women's Groups
Men's Groups
Teen Events
School Assemblies
Parish Picnics
Fund-raisers
Easter Events
Christmas Celebrations
Parent Child Banquets
Outreaches
Any Outreach Event
and MORE!
For even more information check out:
www.ChristianComedianJuggler.com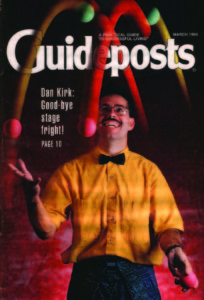 Awesome Family Entertainment With:
Juggling
Comedy
Volunteers
Lots of Laughs
Audience Participation
GOSPEL MESSAGE!
BIBLICAL MESSAGE!
and/or TESTIMONIAL
Custom Messages to Fit Your Theme
*Your Family Event*
"What an awesome ministry and way to impact many lives with what you do. Keep up the good work, and God Bless!"
Sarah Merconti, 4th Grade Teacher, Chippewa Falls, WI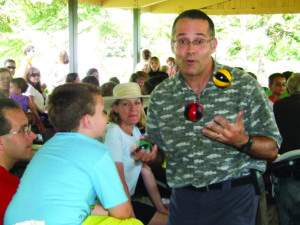 Whether your event is an outdoor festival in a tent, a large indoor stage production in a theater, a music festival, a fair, a church service, a gathering in the youth room, or any special event, Dan will provide reliable, family fun entertainment with an even better message: Jesus loves you!
Stage shows are available in lengths of 30 minutes, 45 minutes or one hour. These can be booked by the show or by the day.
Strolling entertainment is great before or after a stage show or in lieu of a stage show. Maybe you've got a large event with lots going on, or no space for a show. Dan would love to be there to interact with your guests. Dan can twist balloons, stilt-walk, make big soap bubbles, spin plates, and more. Strolling entertainment can be booked by the hour or by the day.

*Christian Entertainer*
"Thank you so much for coming to St. John's Lutheran Church. Everyone said you were fabulous & a blessing from God."
Nicole Steinke, Event Coordinator, St. John's Lutheran Church, Janesville, WI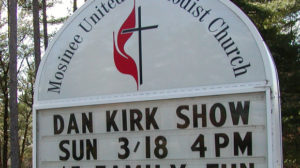 Dan Kirk is a Christian, a husband, a father, an entertainer, a fisherman, a speaker, a teacher, and a full-time performing artist who began performing professionally in 1989.
Dan is known as The Juggler With The Yellow Shoes. Dan learned to juggle when he was 16 years old. It was something he enjoyed doing alone. He really only shared his talents with his closest friends. He never thought he'd be a performer as he was terrified of speaking in front of others. It truly was God's plan, not Dan's plan. Dan's plan of being a chemist, so he could work in a lab alone, never panned out. It's a great story he'd love to share!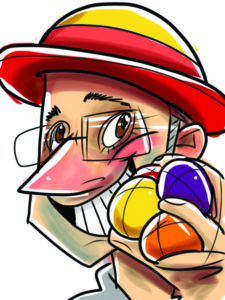 *Your Adult Events*
"Absolutely AMAZING! His honesty about his ministry, his talent, his sense of humor, WOW!"
Mary Jane Stanum: from the 17th Annual Gathering of Women, Davenport, IA
Dan Kirk is available to entertain and/or speak to adult only groups.
Dan Kirk has what it takes to engage an adult audience and keep them entertained and surprised with his unique blend of comedy and skilled juggling. Typical show lengths are 45 to 60 minutes. And yes, he keeps it clean. If your church or business needs headline entertainment, a keynote address, an emcee, a talented trade show host, etc. please email or call him for additional information.
Dan has an awesome God story to tell that your attendees will find hard to believe. It was such a good an unique story that it appeared in Guideposts magazine.
And Dan would love to share his routine he did on America's Got Talent!
Call 920-722-1881 for current prices and availability.
e-mail:  juggler@dankirk.com
*Your Upward Award Banquet Celebration*
"We had you down to Middleton three years ago for our Upward Basketball Award's Ceremony. We loved your show last time and would love to have you come back."
Pastor Tim Nybroten, Good Shepherd Lutheran Church, Madison, WI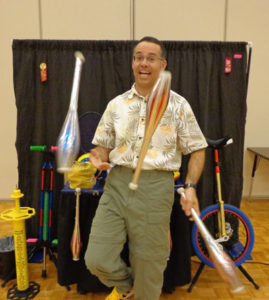 If you think evangelism is boring then you're in for a treat! Dan Kirk, The Juggler With The Yellow Shoes, will skillfully present a Gospel message during his Upward program. Or maybe you'd like Dan to share his God story? With God all things are possible.
Dan shares a common passion with churches that host an Upward program. That passion is to connect unconnected souls to the hope of Jesus Christ. Dan knows how important this night is and it all comes down to one night. Dan Kirk's ministry takes full advantage of this opportunity to share the message of Jesus Christ to many that wouldn't usually set foot into a church.
You'll be relieved to see that Dan's Upward presentations really do engage and entertain all ages! Dan's juggling and entertainment skills will grab everyone's attention which will open the door for Dan to share the Gospel in a truly unique fashion.
Special requests? Sure, Dan will juggle BASKET BALLS or Soccer Balls or a Football. Dan can customize the show to make it unique to your group to fit whatever the Upward Sport. Please let him know of any special requests.
Dan may drive or fly to your Upward event. If Dan is close enough to drive, He'll provide everything so you don't have to. If you're far away, Dan will fly and ship all his performing equipment right to your location. All you have to provide is a sound system, wireless lavaliere microphone and lighting if needed. (A typical Upward Award Event is $1,200 + all travel expenses. A discount will be given if you need two programs on the same day.)
Where's He Been?
A few places where Dan has performed:
Middleton Performing Arts Center, Middleton, WI; UPWARD Basketball Banquet
St. Michael Lutheran Church, Portage, MI;
North Lawrence, OH; Alive '09, Christian Music Festvial
Salvation Army, Chicago, IL; Annual Children's Christmas Party
Yuma Lutheran School, Yuma, AZ; Elementary & Middle School Programs
Midland Evangelical Free Church, Midland, MI; Impact Midland Family Fun Night
LiFest, Oshkosh, WI; Kidzone Stage, Christian Music Festival
Grace Bible Church, Minooka, IL, UPWARD Banquet,
First Alliance Church, Germantown, WI; AWANA Kickoff Event
Grace Camp, DeWitt, IA; Kids Summer Camp
National Catholic Youth Conference, Atlanta, GA
St. Dennis Catholic Church, Madison, WI; Annual Parish Picnic
Trinity Lutheran Church, Davenport, IA; 17th Annual Gathering for Women
St. Peters United Church of Christ, Kiel, WI; End of Sunday School Party
Abiding Savior Lutheran Church, Milwaukee, WI; VBS Kickoff
Peace United Methodist Church, Kaukauna, WI; Mother/Other Potluck
St. John United Church of Christ, Appleton, WI; Parent Child Banquet
Atonement Lutheran Church, Green Bay, WI; Sunday School Program
Trinity Lutheran Church, Wausau, WI; Youth Gathering
Bethlehem Lutheran Church, Minneapolis, MN; 4th-6th Grade Social
Dan has something to say. Give him a chance. You'll laugh, learn and enjoy your time spent with Dan Kirk, The Juggler With The Yellow Shoes!
Contact:
Email: juggler@dankirk.com
Mobile Office Phone: 920-722-1881
Mail: Dan Kirk
115 1st Street
Menasha, WI 54592