Corporate Events
Bring family fun to your company events by hiring worry free entertainment!
Dan Kirk, The Juggler With The Yellow Shoes, is reliable, easy to work with and fun for all ages. Great for all adult groups or a family mix. He's available for: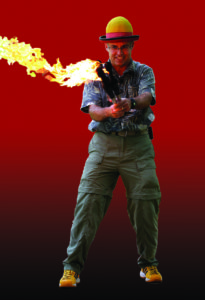 Indoor Parties and Outdoor Picnics
Christmas Parties
Halloween Parties
Summer Celebrations
Corporate Meetings
Breakout Sessions
Fundraisers
And so much more!
Dan can provided:
All Day Entertainment Packages
Single or Multiple Shows
Family Friendly Stage or Street shows
2 to 6 hours of Strolling Entertainment
Interactive Fun for All Age Groups
Everything He Needs To Provide FUN!
Awesome Entertainment For All Ages! Inside & Out
"This was the first time I was put in charge of the entertainment. Thanks for making me look so good!"
–Myndi Margan, Administrative Assistant
Whitetails Of Wisconsin, Kaukauna, WI
Parties & Picnics:
Your company picnics and parties are special. Whether you have 50 or 5,000 people attending, you'll want some professional, reliable, quality entertainment. If you have a captive audience then a stage or street show is great fun for everyone! Shows are packed with juggling, comedy, physical comedy, clowning, audience participation and the use of volunteers. Along with stage shows, Dan can do Strolling Entertainment.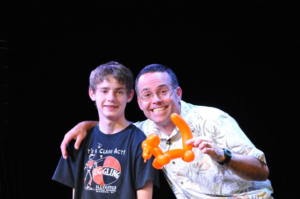 If Dan is driving to your event, he can bring everything he needs to provide a great show like sound equipment, mics, custom prop table, cool juggling stuff and a backdrop. He only needs space to perform, water to drink, and an audience prepared for fun. Electricity will be used if you have it. If Dan flies to your event, the sponsor will need to provide sound and lighting.
For the best outdoor shows, provide a shelter from the sun, wind, and rain. The audience will thank you and so will the juggler. Providing a stage is always a nice professional touch that will make your event look even better.
"Thank you a ton for performing at our convention. It was definitely a highlight! I received so many compliments on your performance. I really enjoyed it very much myself."
–Kimmer T.
OPTIONS TREATMENT PROGRAMS, INC
Call 920-722-1881 for current prices and availability.
e-mail:  juggler@dankirk.com
Strolling Entertainment
Juggling w Stilt-walking w Balloon Animals & Hats w Plate Spinning w Giant Soap Bubbles w Yo-Yo Tricks and MORE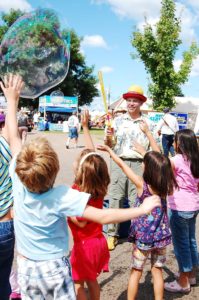 Strolling entertainment is interactive in your face fun. Dan can perform some close up juggling for small groups. He'll do some amazingly wicked ball juggling moves with up to five balls. His personality is a hit with children and adults of all ages.
Everyone loves balloon animals and hats. Dan specializes in making balloon objects for long lines of people. He's quick, friendly, and fun to be around. With over 30 objects to choose from, from an aardvark to a zebra, Dan is one of the fastest and the best.
Strolling entertainment is perfect before or after a stage show or as a stand alone event for the day. Typical strolling days consist of up to  6 forty-five minute strolling sets. It's great to have strolling entertainment when you don't have a captive audience or when so many other things are happening. Or mix it up with up with a stage show and a couple strolling sets. Cramped for space? No place for a show? Do you want a fun, unique activity? Then strolling entertainment is for you!
"The kids sure love you! They kept asking, 'When's the balloon guy coming back?'"
— Kathy M, Natural Foods Manager, Pick 'N Save grand opening, Marshfield, WI
Call 920-722-1881 for current prices and availability.
e-mail:  juggler@dankirk.com
America's Got Talent
Yes, Dan Kirk, The Juggler With The Yellow Shoes, was on America's Got Talent Season 3. Sharon Ozborn, Piers Morgan, and David Hasselhoff were his judges. Dan would love to perform his bit that he did on the show at your corporate function. See him in action and hear about what happens behind the scenes.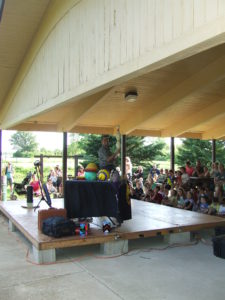 Trade Shows
Get Noticed! Stand out from the crowd!
Dan Kirk, trade show juggler and presenter, uses a variety of movement props that will steer traffic toward your booth.
Dan will work with you to create custom juggling routines and scripts to effectively communicate your key points.
Dan's presence in your booth goes far beyond entertainment. Businesses hire him because he builds booth traffic, increases their leads, delivers product information in a unique and fun way, and enhances their profiles at the convention.
Call 920-722-1881 for current prices and availability.
e-mail:  juggler@dankirk.com
Clientele:
Since Dan Kirk has been performing full-time for over 2 decades, here is a partial list of past clients: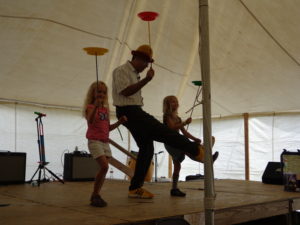 Bemis, Sheboygan Falls, WI
Green Bay Packers, Green Bay, WI
Northern Pines, Minneapolis, MN
EAA, Oshkosh, WI
Salvation Army, Chicago, IL
Pick 'N Save, many across WI
Kimberly Clark Corporation, Neenah, WI
Wausau Hospital, Wausau, WI
Barron Electric, Barron, WI
North Shore Country Club, Menasha, WI
Harley Owners Group, Milwaukee, WI
Lion's Club, Winterset, IA
International Paper, Green Lake, WI
Merck, Milwaukee, WI
Festival Foods, Green Bay, WI
Parkway Bank, Harwood Heights, IL
State Farm Insurance, Mishicot, WI
Salvation Army, Peoria, IL
Butte Des Morts Country Club, Appleton, WI
PLUS MANY MORE…
"Your shows were exciting, funny, and a joy to watch. Thank you for making our picnic a big success!"
— Mary Jo Monday
Contact:
Email: juggler@dankirk.com
Mobile Office Phone: 920-722-1881