County Fairs, City & Corporate Festivals, Family FUN Events!
For super fun family entertainment for your FREE stage, grounds, or small GRAND Stand, choose the award winning comic juggler, stilt-walker, unicyclist, balloon guy and so much more: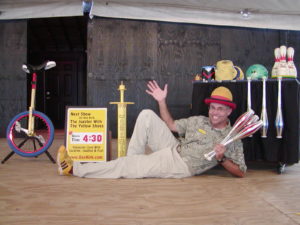 Dan Kirk: The Juggler With The Yellow Shoes!
Stage Shows and Strolling Entertainment for Everyone!
"I've booked Dan Kirk at our Door County Fair numerous times, including 2015. He performs on our daytime Festival Stage and does walk-around on the midway and in some of our buildings. Every year Dan has done a fabulous job. He's the ultimate professional, and we love his spontaneity. Consistent, incredibly skilled, and flexible (it's a fair) – we love The Juggler With The Yellow Shoes!"
–Michael Raye
Door County Fair, Sturgeon Bay, WI
Why Dan Kirk, The Juggler With The Yellow Shoes?
Dan provides family fun that your attendees want to see.
Dan is easy to work with.
Dan will attract big crowds and keep them.
Dan can easily adapt to your last minute needs.
Dan's stage shows really captivate and entertain all ages.
Dan has fun stilt-walking outfits.
Dan provides his own reliable sound system.
Dan is wicked fast at twisting balloon animals.
Dan's personality makes him easily approachable.
Dan doesn't wear scary clown clothes.
Dan is your choice for FUN, Family, Fair entertainment!
Don't miss out again. Book your fair or festival for this year or next year right now.
"Your show was a big hit. . . perfect for our festival!"
— Joan Stewart, Festival Coordinator
Lake Fest, Sheboygan, WI
Make your great event even better when you hire Dan Kirk, The Juggler With The Yellow Shoes to perform at your fair or festival. From multiple thirty minute stage shows in a day to a one hour GRAND Stand event to a couple hours of strolling entertainment to eleven days at a state fair, Dan Kirk, The Juggler With The Yellow Shoes, has what it takes to make your awesome event even better.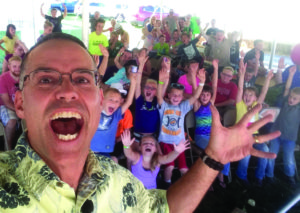 STAGE SHOWS!
Stage and street shows are great fun for everyone! Shows are packed with juggling, comedy, physical comedy, clowning, audience participation and the use of volunteers. Dan's comic juggling routines can consist of fire juggling, vegetable juggling, five ball juggling, partner juggling, machete juggling, bowling ball juggling, club juggling, fruit juggling, shoe juggling, juggling on a pogo stick, juggling on a unicycle plus many other combinations. Really, it's not what you juggle or how many you juggle, it's how you do it. And, Dan does it right!
Dan will make it easy for you! Dan will bring everything he needs to provide a great show! He'll bring sound equipment, mics, custom prop table, cool juggling stuff and a backdrop. He only needs space to perform, water to drink, and an audience prepared for fun. Electricity will be used if you have it.
Fair and festival stage shows by Dan Kirk are typically 30 minutes long. However, Dan likes to warm up the audience and be on stage 10 minutes prior to the scheduled start of his show. This gives him a chance to engage those passing by to create a larger audience. And following his show he likes to hang out, pass out pictures and even create balloon animals and hats.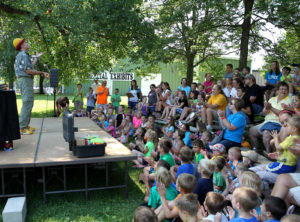 Dan will perform his shows three times per day. Each show is unique. Dan will repeat his most popular and fun routines during your fair while bringing in new routines throughout your event. All work is to be completed within a 6 hour time slot.
For the best outdoor shows, provide a shelter from the sun, wind, and rain. The audience will thank you and so will the juggler. Providing a stage is always a nice professional touch that will make your event look even better. And if a shelter is provided the show can go on even if it's raining!
"Thank you for a truly remarkable performance at this years Pierce County Fair. Your professionalism, coupled with your unique talents, captivated the audience and made for a very enjoyable show. What a GREAT experience!"
— Kirstin R. Schilling, Fair Coordinator, Pierce County Fair, Ellsworth, WI
Grand Stand Show!
Are you small fair or festival? Would you like an evening event that's FUN for the entire family?
Comic Juggler Dan Kirk is for you! Dan would love to come to your fair or festival and provide a small grand stand style show. Dan will provide his own sound and lights. You provide the covered stage and seating for up to 800 people and Dan will provide at least 60 minutes of super swell entertainment that includes audience participation, comedy, juggling, and the use of volunteers.
Dan will do dangerous juggling stunts like fire juggling and machete juggling. He'll also perform the routine he did on America's Got Talent!
Call 920-722-1881 for current prices and availability.
e-mail:  juggler@dankirk.com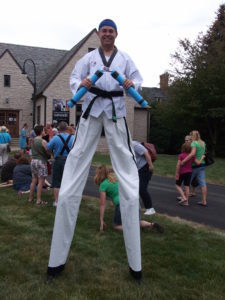 Strolling Entertainment:
Juggling w Stilt-walking w Balloon Animals w MORE
Strolling entertainment is interactive in your face fun. Dan can perform some close up juggling for small groups. He'll do some amazingly wicked ball juggling moves with up to five balls. His personality is a hit with kids of all ages.
Maybe some stilt-walking would be fine addition to your festival. Dan can become an 8 foot 9 inch tall man. Tall enough to look huge yet short enough to give kids a "high five".
Everyone loves balloon animals and hats. Dan specializes in making balloon objects for long lines of people. He's quick, friendly, and fun to be around. With over 30 objects to choose from, from an aardvark to a zebra, Dan is one of the fastest and the best.
Along with juggling, stilt-walking, and balloon animals, Dan can also show yo-yo tricks, teach others juggling, blast people with an airZooka, blow giant bubbles, demonstrate and let kids try their hand at a Chinese Chatter Ring, feather balancing, and even plate spinning. And his newest skill that he loves to show off is juggling while riding around on a hover board.
Strolling entertainment is perfect before or after a stage show or as a stand alone event for the day. Typical strolling days consist of 6 forty-five minute strolling sets. It's great to have strolling entertainment when you don't have a captive audience or when so many other things are happening. Or mix it up with up with a stage show and a couple strolling sets. Cramped for space? No place for a show? Do you want a fun, unique activity? Then strolling entertainment is for you!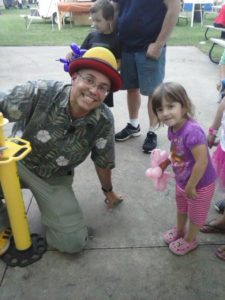 "The kids sure love you! They kept asking, 'When's the balloon guy coming back?'"
— Kathy M, Natural Foods Manager
Pick 'N Save grand opening, Marshfield, WI
Call 920-722-1881 for current prices and availability.
e-mail:  juggler@dankirk.com
Parades:
Is a parade part of your program? Then you need The Juggler With The Yellow Shoes! Dan loves to unicycle and juggle in parades. Yes, it's completely exhausting but loads of fun for those on the street. As parades often move slowly, Dan will have the opportunity to work both sides of the street. He'll weave around other parade entries. He'll hop off the uni for a quick juggling show. He'll exchange his uni for a seat while he tries to convince a child to take over. It's all great fun!
Maybe you'd rather have Dan walk the parade route and juggle something special. If the parade is at night he can juggle illuminated balls. Yes, he even juggled cow chips in the Cow Chip Festival parade.
If your parade route is really short, Dan would happily go through the parade route twice doing different things.
Call 920-722-1881 for current prices and availability.
e-mail:  juggler@dankirk.com
Clientele:
Why do county fairs and festival keep having Dan back? It's because he truly is a family entertainer who offers laughs and fun for all ages. Here's a brief list of past clients: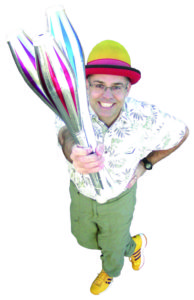 DOOR County Fair, Sturgeon Bay, WI
Sioux Empire Fair, Sioux Falls, SD
Sawyer County Fair, Hayward, WI
Vilas County Fair, Eagle River, WI
Cedar County Fair, Tipton, IA
Otsego County Fair, Gaylord, MI
Central Wisconsin State Fair, Marshfield, WI
The GREAT Jones County Fair, Monticello, IA
EAA KidVenture, Oshkosh, WI
Houston County Fair, Caledonia, MN
Platte County Fair, Columbus, NE
The Great Wisconsin Cheese Festival, Little Chute, WI
Washington County Fair, Washington, IA
Grant County Fair, Lancaster, WI
Irish Fest, Milwaukee, WI
Calumet County Fair, Chilton, WI
Wausau Festival of Arts, Wausau, WI
Price County Fair, Phillips, WI
Winnebago County Fair, Oshkosh, WI
LiFEST, Oshkosh, WI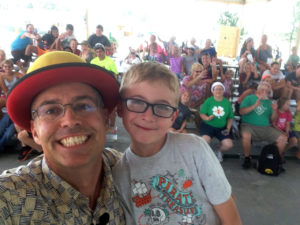 ALIVE '09, North Lawrence, OH
Pierce County Fair, Ellsworth, WI
Oktoberfest, Chippewa Falls, WI
Harvest Fest, Green Lake, WI
Jefferson County Fair, Jefferson, WI
Washington County Fair, Lake Elmo, MN
Waukesha County Fair, Waukesha, WI
Outagamie County Fair, Seymour, WI
Gogebic County Fair, Ironwood, MI
PLUS MANY MORE…
Call 920-722-1881 for current prices and availability.
e-mail:  juggler@dankirk.com
"I heard only rave reviews. There's nothing like a juggler and fun-loving guy to liven up a family festival!"
— Marcia Theel, Festival Coordinator
OctoBIRDfest, Wausau, WI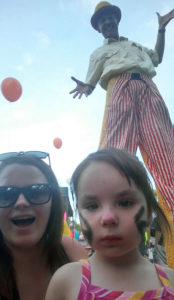 Rates and Additional Information:
A day consists of up to three thirty minute stage shows or up to six forty-five minute strolling sets or a combination of strolling sets and stage show(s).
All work is to be completed within a six hour time slot.
Dan can provide his own sound equipment with microphones and speakers.
Dan is willing to work for and with sponsors to reduce your daily fee expense.
Nationwide: $875 – $1,275 per day with a 3 day minimum + lodging
Single day events and single show events will be considered for summer dates in Wisconsin beginning in March of the same year.
ONE NIGHT ONLY?!
Small Grand Stand Style Show (800 people or less): $1,750 + lodging and mileage
A one hour+ show. This is not a kid show! It's a family show. Adults, teens and children will LOL and have a great time!
Along with performing his unique blend of comedy and juggling, Dan will perform his America's Got Talent routine.
Now booking 2018 and 2019 dates!