New from Dan Kirk!
It's The Ultimate Game Show!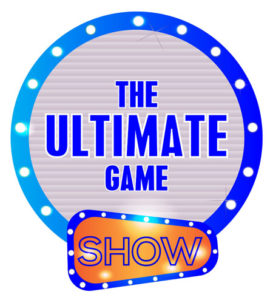 You and your Friends are the STARS of the show!

Great for your County Fair or Festival! Cow Trivia, Pig Trivia, Horse Trivia, Farming Trivia and More!

Great for your School! Assemblies & Fun Nights

Great for your Family Event! Scouts, AWANA, Upward, etc.

Unique fun for your Corporate Meeting or Social Event
Welcome to The ULTIMATE Game Show where you and your friends are the stars of the show!
With over 25 years in the family entertainment business Dan Kirk has what it takes to be the perfect game show host!
The ULTIMATE Game Show combines games of skill with games of knowledge. From a challenging cup stacking game to a trivia game about cows, you'll be on the edge of your seat waiting the outcome. Who will be The ULTIMATE Winner? Will it be you? Will it be your BFF? Cheer on your friends for the ULTIMATE in FUN!
How does The ULTIMATE Game Show work?
Dan will pick new contestants for every game. Most games have 4 to 6 players. Some games have more! At least 16 volunteers will be needed for one complete ULTIMATE GAME SHOW! The number of volunteers depends upon the games played and how long your game is schedule for. Every game will produce one winner. The winner from each game will return to the stage at the end of The ULTIMATE Game Show where a final ULTIMATE game will be played. The final game will randomly determine The ULTIMATE Game Show Champion! Where the winner will receive cash and or prize(s).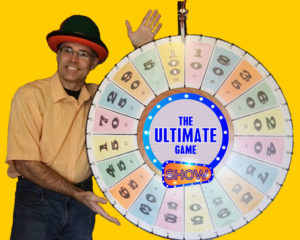 County Fair Fun!
Dan will turn your stage into The ULTIMATE Game Show. Dan will provide everything he needs to bring laughs and fun to your fair all while providing family entertainment geared toward all ages including: sound system, microphones, game show props, back drop, etc.
It's all about the volunteers. Each 30 to40 minute show will maximize the use of volunteers. At least 16 game show contestants will be needed in each show.
You can have up to three 30 to 40 minute shows per day.
A hard, flat, level surface is required to have fun and safe game play.
An 8 foot deep by 12 foot wide gaming area is the minimum size required.
Promote a vendor or a sponsor by supplying Dan with prizes to give away to Ultimate winners!
Customizable:
Make The ULTIMATE Game Show your own!
For example: For your county fair, Dan will have an Agricultural element within the trivia games. Dan has a Cow Facts Trivia Game, Pig Facts Trivia, Corn Fax Trivia, and Farming Facts Trivia. Since Dan spends 3 or more days at a county fair, he has enough material to never repeat trivia game questions.
For your event Dan can make custom trivia questions to fit your theme or business. Just let Dan know and he'll add your Q & A to make a trivia game element just for you.
Do you have certain people in your organization that you'd like to make contestants? Give Dan a list of names that he can choose from. It's that easy.
To make your game show even better, you can supply the prizes for each game and you can supply the Ultimate Game Show Champion prize as well.
Questions?
Contact Dan Kirk via email: juggler@dankirk.com or phone: 920-722-1881 for additional information.