COOL enough for kids, EDGY enough for teens, SMART enough for adults, HIP enough for seniors! BAD enough for America's Got Talent!
Dan Kirk: More Than Great Entertainment!
"Your show was very very cool. The students are still talking about it!"
-VaLisa Harmon: Library Media Specialist, Washington Middle School, Kenosha, WI
"Dan has what it takes to add pure fun and excitement to your family event, fair or festival!"
-Sue Kirk: Desert Grove News Editor, Yuma, AZ
"I really liked how Dan tied in books and reading into his show. He was very engaging and fun!"
-Mary Kay Nelson; 3rd Grade Teacher, LINCS Elementary, Whitewater, WI
"Wow, great, amazing! You nailed it with the message."
-Michael Ball, Counselor, Hilltop Elementary, Argyle, TX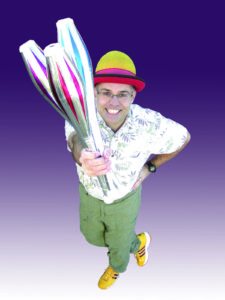 With over 24 years of experience as a full-time performer, you can bet the farm on one fact: Dan Kirk, The Juggler With The Yellow Shoes, has what it takes to engage your audience and help make your event a huge success! Whether an educational Fund-Raising event, or craziness at a county fair, or speaking at your church, or entertaining at your corporate party, or doing an assembly at your child's school, or celebrating the pig at The World Pork Expo, Dan will impact your event that will bring smiles, laughs and sometimes tears!
"Thank you for speaking to our elementary kids today to celebrate the Accelerated Reader program. Your presentation on the importance of reading combined with the juggling and other acts were great. The reception from the students and teachers is all the buzz in the school. They have given great reviews and all enjoyed your talents."
-Greg Wilmes, 4-12 Principal, Creighton Public Schools, Creighton, NE
"Absolutely AMAZING! His honesty about his ministry, his talent, his sense of humor, WOW!"
-Mary Jane Stanum: from the 17th Annual Gathering of Women, Davenport, IA
"That's IMPOSSIBLE! No really, that's impossible!"
Jushua: from the Sioux Empire Fair, Sioux Falls, SD
"Instead of "Four Stars", I'm giving you "Four  E's". Educational, Exciting, Enthusiastic, and Electrifying!!!"
-Kyt Kinslow Rammer: Plymouth Public Library, Plymouth, WI
CONTACT INFORMATION:
Mobile Office Phone: (920) 722-1881
Email:  juggler@dankirk.com
Mail: Midwest Juggling Company, 115 1st Street, Menasha, WI 54952
2017 Midwest Juggling Company