Balloon Animals, Stilt-Walking, Juggling & More
Strolling entertainment by Dan Kirk, The Juggler With The Yellow Shoes, is perfect before or after a stage performance indoors or outside. And it's great to have strolling entertainment when you don't have a captive audience or when so much other stuff is happening.
Cramped for space? No place for a show? Do you want some additional fun at your event? Are you looking for a little more excitement? Then strolling entertainment by Dan Kirk, The Juggler With The Yellow Shoes is for you!
Strolling entertainment consists of bringing live, interactive, fun to your event. Dan enjoys amazing your guests by strolling a designated area and juggling, stilt-walking, plate spinning, yo-yo ticking, balloon animal and hat making, giant bubble creating, juggling while cruising around on a hover board, and more!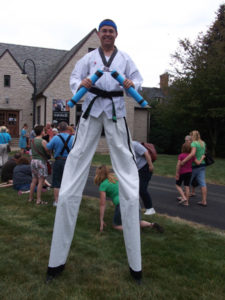 Strolling Entertainment is an excellent option for:
County Fairs

Festivals

Company Parties

Corporate Picnics

Family Reunions

City Celebrations

After School Events

Parades

Christmas Parties

Grand Openings

Church Events

Halloween Parties

And so Much More
Dan can customize his appearance for your special event. For Irish Fest, Dan wore a pair of green pants made just for the event. For KidVenture at the EAA Annual Convention, Dan wore a flight suit and he learned to make an airplane out of balloons. For Harley Davidson, Dan learned to make a motorcycle with one balloon. For a renaissance fair Dan bought a custom made jester costume. If you have something special in mind just let him know.
Strolling Entertainment is great for adult groups too! Adult groups can benefit from strolling entertainment as well. Dan will liven up your corporate business function, meeting, party or themed event, etc. Dan can also park his trade mark yellow shoes and casual dress for a suit and tie to fit your needs. Dan is here to serve you!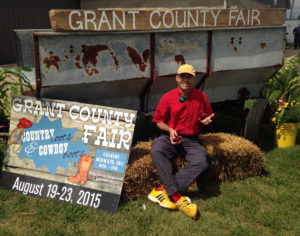 Rates: Strolling entertainment is $95 to $300 per hour + expenses. A single hour on a weekend is $200 to $300 + expenses. Discounted rates are for multiple hours and/or multiple days booked. Daily rates are also available. Email juggler@dankirk.com or Call 920-722-1881 for additional information.
"Your  balloon animals, juggling and stilt-walking along with your fun personality was just what our company picnic needed." 
– Sue Kirk, V.P., Circle Development Corp., Menasha, WI
"The Kids sure love you! They kept asking, 'When's the balloon guy coming back?'" 
– Kathy M., Natural Foods Manager, Pick 'N Save, GRAND OPENING, Marshfield, WI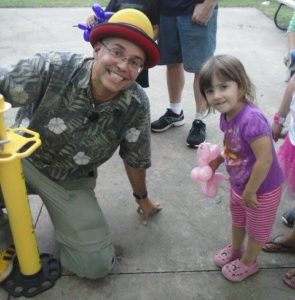 Balloon Animals & Hats
From an Aardvark to a Zebra, Dan can twist it. Dan is one of the fastest and best by using just one or sometimes two balloons. He has over 30 popular requests. Dan's balloon animal and hat creations are great for lines of people. Dan is fun and personable and refuses to be a machine. He'll interact with your guests all while making the wait more fun.
Stilt-Walking
Check him out! He's 8 fee 9 inches tall! And he can juggle!
Dan has a variety of stilt-walking outfits to create even more excitement.
Stilt-Walking is a very popular and fun form of strolling entertainment that can be done indoors or out.
Giant Bubbles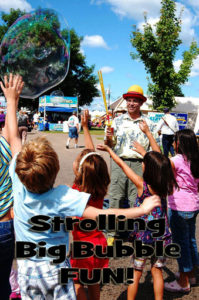 When is wind is right it's bubble time! Dan will get out his bubble sword and create big bubbles for the adults to enjoy and for the kids to destroy. Everyone seems to love bubbles no matter what the size. And Dan has a great method to make safe, fun bubbles. Dan will make a Safe Zone area to make the bubbles and then the children of all ages can destroy or enjoy them. How long will they last? How far will they float? Every bubble has a story and it's fun!
Juggling
Dan is a very skilled juggler. He'd love to walk around your event, create some smiles and do some ball juggling. He can juggle up to five balls. You'll be amazed as you watch Dan do some wicked three ball skills. Adults and even teenagers will be impressed. Dan will approach your guests and do short, ball juggling shows.
Other forms of strolling entertainment can include: Kendama, Yo-Yo, Plate Spinning, and Feather Balancing.
For additional information please email or call or fill out my contact form on my contact page.
Email: juggler@dankirk.com
Call: 920-722-1881